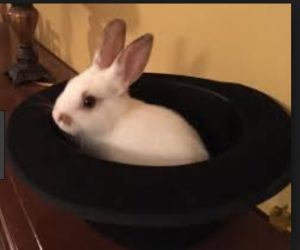 Absolutely love to repurpose, recycle, upcycle. Also, like to adopt animals that are looking for a new home. Well, okay, the animals have no say in the matter. People, for whatever reason, decide they can no longer keep an animal and, well, there you are. Or I should say, there I am!!
Someone was looking to rehome their rabbit. The rabbit is named Twitch and came with his own hutch. How cool is that? And the best part is that the whole deal was only $40. But no. It gets better.
The person rehoming this adorable bundle of fur is a magician! Twitch had grown too large to fit into the hat for the magic show so, well, there you go. (The above image was taken when Twitch was still tiny.) Yippee, I have a magical rabbit!!!
When I picked up the rabbit and the hutch I fully expected to plop the hutch down, put the rabbit into the hutch. toss in some food and water and enjoy my magical rabbit. Easy peasy; done and done, right?
But no. When I saw the hutch my brain went into high gear. Creativity kicked in.
What if…do you think it would be possible? Hmmm. Let me think a minute. If I raise up the hutch and put a lower floor, reinforced with fence wire and 1/2 inch hardware cloth…I'll be right back.
Yep, it works. The rabbit is now happily living in a dog pen inside the house and my 6 chickens have a 2-story mini coop with a large-ish outdoor play area that had a former life as a dog exercise pen. I am calling it a 'coop-ette', hope I invented a new word.
Look here to see the before picture of the original coop:
https://www.wayfair.com/pet/pdx/innovation-pet-cotton-tails-bunny-hutch-inpe1022.html
Sorry, this item is no longer in stock so don't be trying to buy one and make your own two-story coop-ette.
You may still be able to purchase on here: https://www.ebay.com/itm/142571391320
But if you plan to use this for rabbits, please know that it is made mainly of wood. Rabbits tend to chew wood. Eventually, the rabbits could chew their way out, hit the ground and end up on a different blog post. It's better to use it as a coop-ette for chickens.
And here is the after picture: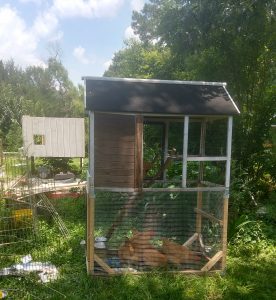 If you live near Savannah, Georgia and need a very entertaining magician, here is a link to some reviews for Tembers Tales, the magician who provided the hutch and the magical rabbit. Children absolutely love Miss September.
https://www.temberstales.com/reviews