Okay, I love rice pudding. I'm not supposed to drink cow milk but if the milk has been cooked or cultured I can tolerate it fairly well. I have been buying Kozy Shack rice pudding in a 12-pack at Walmart; the price is more than $5.
Hmmm, can I make rice pudding at home and save money? Yes. Can I make rice pudding without cow milk? Yes. So here is my experiment.
One container of sweetened, vanilla almond milk ($1 at Dollar Tree, 4 cups); 1 cup white rice (uncooked, any kind). That's it. Just 2 ingredients. Oh, but you need an Instant Pot or you'll be standing at the stove for over 30 minutes.
Pour the almond milk into the Instant Pot stainless steel liner, add 1 cup of rice, stir, put the lid on, high pressure 6 minutes (don't forget to flip the lever to keep the pressure in); natural release for 7 minutes. Shut off Instant Pot. Release remaining pressure. Remove lid. Stir the pudding. Okay, eat. From start to finish it takes just under 20 minutes.
Not all rice is created equal so be prepared to add a bit more liquid if the pudding is too thick or set the Instant Pot to saute if the pudding is too thin. Remember that the pudding will thicken as it cools.
Optional: add a pinch of salt, raisins or chopped dates, stir in some full-fat coconut milk at the end for a creamier texture, add cinnamon and nutmeg. When serving you can add toppings – blueberries, lemon zest, chopped nuts, coconut…whatever floats your boat. If you buy unsweetened almond milk you can decide what kind of sweetener to use. Enjoy.
The image shows 3 of the 4-ounce containers but the recipe makes more. These containers are a handy size for snacking or packing into a Bento box.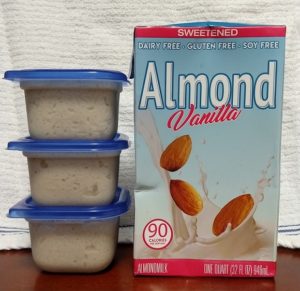 Oh, wait. What if you don't have an Instant Pot? Go ahead and cook this in a pan on the stove top, but be prepared to stand for about 30 minutes. Sooner or later you'll realize your time is valuable…just sayin'.