Posted on Nov 27, 2019 6:16 PM
Today is Wednesday. One day before Thanksgiving. Happy Thanksgiving everyone!
Yep, it's true. Nothing much is happening around here.
I make plans. Life gets in the way. The several loads of free composted horse manure turned out to be contaminated with residual herbicide so I lost my entire garlic bed. I had also added the composted manure to a new garden bed, added coir, pine fines, and all the good stuff one does when creating a new planting bed. I got a bit sick and didn't actually plant anything in the bed but mysteriously, there were zero weeds growing in the bed. Huh? That's when I started researching and learned about the evil thing I had brought home to my garden. It was a huge waste of time and money and all that soil will need to be removed and replaced. Sigh.
There were some trees I'd been looking for and wasn't able to find anywhere. Everyone was sold out. I worked with one plant nursery who was finally able to locate the trees for me. I bought 4 trees, over $88 plus shipping costs. I had put the trees in a 5-gallon bucket with some good garden soil until I could dig holes and get them planted. And…well, you guessed it. The 'good' soil is from that new bed so I lost 3 of the 4 trees and one is barely hanging on to life.
Back in September, there was a mandatory evacuation order as Hurricane Dorian was expected to hit my area. Instead of evacuating (and where does one actually go with 2 dogs and something like 14-15 chickens?), I drove a bit inland and adopted a dog. He is so cute and funny that he makes my face hurt from all this laughter. z
His name is Chico Burrito.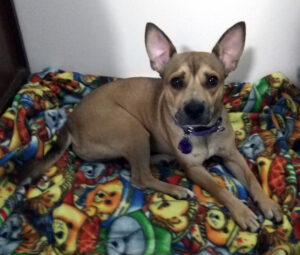 Mowing over an acre of grass and weeds with a push mower was getting tiresome so I researched and learned how to repair the Cub Cadet riding mower that's out in the big shed. I replaced the battery, repaired one tire, drained the old (ancient) gasoline and was thankful that the old gas didn't cause any major problems, added new gas (non-ethanol, marine gas) and then had to get my limbs coordinated to go forward and reverse and make turns without tipping the mower over on its side. After that, I decided that raking over an acre of grass and weeds and hauling it to the compost bins was…well, just plain idiotic so I researched and ordered a bagging attachment. Whew, the box was large and heavy and somehow I managed to install it. Works great. Here, look at the huge pile of clippings.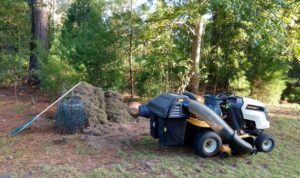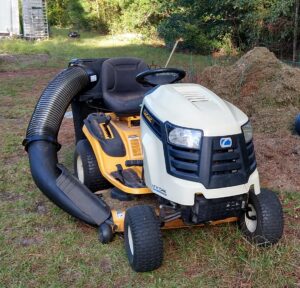 As the chickens grew, I removed them from the house to the shed, then to the coops in the garden area. Yes, coops as in more than one. Eventually, the chickens decided they were grown and no longer wanted to be put inside the coops at night. Find, you wanna be grown? Be grown! But don't complain to me later.
Some of the chickens were roosters and honestly, I only need one, so little by little I have been giving away roosters. I gave one rooster and a hen to my former neighbors who stopped by for a visit. Last week I gave away 3 roosters to a man who was looking forward to his Thanksgiving dinner (oops!) There remains one rooster that I am unable to capture. He's just too smart. Time will tell.
Since the chickens are grown and now select their own sleeping place in the evening, I no longer have to round them up in the evening. Unfortunately, the sleeping place that some selected was not very secure and I lost one hen to a very hungry Great Horned Owl. It took that owl 3 days but eventually, all that was left were a few stray feathers. Owls have very good table manners.
Let's see. I did mention that I got sick? Well, I got sicker. I lost a ton of weight and my hair fell out. Ugh! So I bought some wigs and…laughed myself into insanity. No way could I actually go out in public wearing a wig. I created a collage of how silly I looked.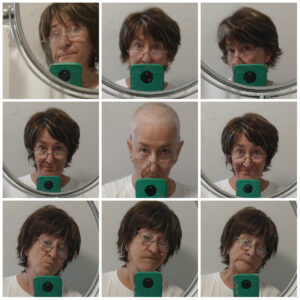 After living without hair it was quite a surprise when it started to grow back. Here is my "Before, after, and after" picture.

My neighbor will be moving and the new people have 5 dogs so I'll be installing a 6-foot privacy fence. Hmm, I'd better get cracking and finish installing the fence to keep the chickens contained. So far there have been 9 cedar fence poles and 6 T-posts installed. Yesterday I purchased more T-posts. Wish me luck. The plan is to fence a perimeter around the house where the dogs can play, to close in the garden area to keep the chickens from straying too far (and annoying the new neighbors). The Cub Cadet has reminded me that wide gates need to be included in this plan.
For about 3 days I was very happy because a homeless person offered to help with some of the work. He worked hard for one day – I paid him. Worked sort of hard for the next day – I bought him new shoes and some food. And the third day he stole what he wanted. I paid him for the first two days so I guess we are about even as far as money goes.
Speaking of money, sheesh, I need to find enough money to replace the HVAC system. Mine is just plain too old. It has the old type of Freon. The good part is that the new system will be more efficient and will save me money on my electric bill. Now…if only I had a spare $5,285.00 laying around the house. 🙂
Almost forgot. In my spare time, I volunteered to help transport dogs that are going from foster to their forever homes. The group is Echo White Sheperd Dog Rescue. On Tuesday, December 3, 2019, Facebook is having Giving Tuesday and will match donations up to a certain amount but the money runs out very quickly so…if you're not busy at 8 am (Eastern Time), why not chip in? There's a link at the end to explain more.*
And just in case you can't watch the clock that closely, there's what I call the equivalent of 'early voting'. You can send your donation early (only a few days left!!) and the monies will be pooled and donated by the group at the correct moment in time. Use this link for early donations:
https://paypal.me/pools/c/8kirGynR2r
Here is one more picture. For anyone who is a bit overweight and trying to lose a few extra pounds, be careful what you wish for or you could end up looking like me. Yes, that's me and I am moving a 148-pound Sodefor anvil made in Sweden back in the 1920s. (It's okay to laugh!)

The next project on my to-do list is to make a new chicken enclosure from an old 12-foot trampoline. Wish me luck!
*More information:
https://www.facebook.com/help/332488213787105
https://www.facebook.com/groups/echodogs/
UPDATE: Feb 5, 2020
Not much is happening but a weasel got into the chicken coop and killed 6 of my best hens and my favorite rooster. Some of the chickens had been roosting in the trees and they were spared. My entire flock now consists of 2 hens and 2 roosters. Guess I'll have to dust off the incubator and get cracking. Ooooh, bad pun!